New Approaches has been growing this summer. We are really lucky to have Meredith Pinkham, LCSW, joining our therapy team. Meredith is now seeing adult clients in our beautiful new office in Brunswick, Maine.

I recently sat down with Meredith to talk about her extensive experience prior to joining New Approaches, and how she approaches working with our clients. What I really like about Meredith is that she is real and down-to-earth, very easy to talk to, and really professional and knowledgeable. 
Here's what we discussed:  
Hannah: Can you tell us a little bit about your background? I know you have worked a lot with people related to their health, particularly women's health, chronic pain, and people experiencing a life change or transition. 
Meredith: I worked as an integrated clinician in the health field for several years. This was in primary care offices and a women's health office. Being in this role allowed me to work with many different people and issues. It also allowed me to develop a passion and focus for helping people navigate chronic disease, chronic pain and/or just wanting to improve their physical health in addition to their mental health. 
Hannah: Tell me more about your interest in supporting people experiencing chronic pain.
Meredith: Chronic pain is a widespread issue that many people struggle with and often people who are experiencing chronic pain are also experiencing depression and/or anxiety. Therapy can be an important part of helping people navigate this complex situation. I aim to help people widen their understanding of what living with chronic pain can look like and help them to develop strategies that may help alleviate and/or cope with it.
Hannah: If someone comes to you experiencing chronic pain, how do you support them specifically? I know it's hard for someone with pain to feel like they have a provider who really gets it, as so many people have been invalided in their experience. 
Meredith: Chronic pain is hard. It is sometimes invisible to those around us but all too real for the person going through it. I always want my clients to know that I believe them. I also recognize the medical system, for a long time, has not treated chronic pain well and people often feel unheard. I help people navigate the medical system which might include discussing best ways to communicate and advocate for their needs or what treatment options are available to them. Also, as I shared above I aim to help people learn to live WITH chronic pain. I want to best support my clients in finding ways that they can continue to have happy, fulfilling lives even while experiencing chronic pain or illness.
Hannah: I know you have a really special interest in working with people through pregnancy and postpartum. Tell us about your experience and why providing this support is meaningful to you.
Meredith: Pregnancy and postpartum is a time of significant change and vulnerability in one's life. Whether this be a person who is trying to get pregnant, experiencing loss and/or trouble conceiving, a brand new mom or a mom with an expanding family there is a lot going on that can lead to difficult places. That can look like difficulty regulating emotion, feeling overwhelmed, anxiety/worry, feeling sad/hopeless, grieving, and trouble adjusting. I can help Moms (and Dads!) navigate through this. 
Hannah: What is it like for a client to work with you? How do you approach the work? What can they expect? 
Meredith: Client's can expect to find someone who is easy to talk to, someone who listens really well and has strong empathy. I approach things a little different with each client depending on their needs, personality, and what they want to achieve from therapy. I pull mainly from CBT, ACT, and solution focused/motivational interviewing but am always open to expanding and learning new approaches and strategies. Client's will find that I am their partner and our goal is to work together to help them lead better functioning, fulfilled, healthier lives. 
Hannah: What else do you want clients to know about working with you? 
Meredith: I want clients to know that therapy takes time but it doesn't have to last for years. Each person's situation is unique to them and I meet people where they are at and what they are wanting to achieve. It's also okay if you don't know what that is yet. We will figure it out together!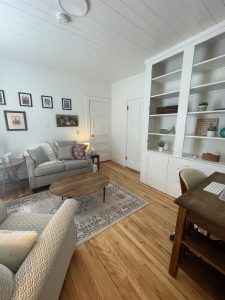 At the time of publishing, Meredith has openings for in-person sessions in Brunswick, Maine for adult individual therapy clients, as well as teletherapy openings for clients anywhere in Maine. She has applied to work with MaineHealth insurance plans, as well as Lyra. Meredith provides superbills for out-of-network insurances and accepts health savings cards. To get started call 207-553-2260 or email [email protected]