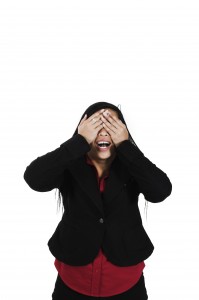 Do you ever feel like you can't shut off your brain?
It's no wonder when you think about how much you've got on your mind. You've got a massive To Do list for work, home, and family.  And so many things you need to remember, so many decisions you need to make.
It all adds up to a lot of pressure to do it all, remember it all, and make all the right choices.  And it's way too easy to get to that place of analysis paralysis where you think, think, think but don't take action.
As if that weren't enough, there's everything that's going on in the world these days – politics, hurricanes, mass shootings, earthquakes, war, wild fires, terrorism, climate change. You turn these problems over and over in your mind, even though you can't solve them by thinking. That doesn't stop you from trying though!
No wonder you're feeling overwhelmed. Stressed out. Anxious. No wonder your brain is on overload.  No wonder you feel so tense and on edge.  Why wouldn't you, right?
But there is good news.
First of all, you are NOT the only one.  The Over Thinkers Club is a big one. Second, there are things you can do to unwind your mind – simple, easy, effective strategies that unload your overloaded, overworked mind.
That's why New Approaches is offering a fun, highly engaging, and informative workshop to share tips and insights on exactly what to do to increase your calm quotient, let go of stress, and give your brain a well-deserved rest.
You will leave the workshop with:
Clarity about your current stress level and how it is impacting your life right now.
New perspectives on how to deal with your stress in effective ways, using strengths you already possess.
3 proven tools to calm your mind and body and the time and space to practice these skills.
Awareness of how to use your body to quiet the mind in simple ways you can put to use immediately.
An action plan for integrating these new tools into your life RIGHT NOW.
Here are the workshop details: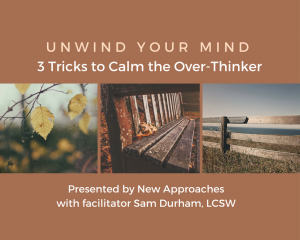 What: Unwind Your Mind: 3 Tricks to Calm the Over-Thinker
Who: Sam Durham, LCSW
Where: New Approaches offices at 200 High Street, Portland, Maine
When: Monday, October 16th from 5:30 to 7:00 p.m.
Cost: $25
Seating is limited, and I guarantee this workshop will fill quickly.
For more information and to register, CLICK HERE TODAY.