We are excited to offer The Self-Assurance Series.  Get the motivation and toolkit you need for increased energy and confidence!  
SAVE BIG with a Series Pass.
Here are the details: 
The Positive Power of "No"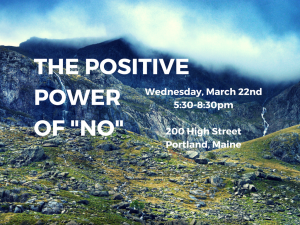 Wednesday, March 22 5:30-8:30pm
200 High Street, Portland, Maine
Do you put yourself last, risking your success and depleting your joy? Does guilt prevent you from being honest and saying "no"? Are you ready to stop "working on it" and finally master saying "no" once and for all? 
It's time to learn exactly how to say "no" with confidence and without apology.
This workshop is right for you if:
You say "yes" to things that bog you down and end up feeling resentful.

You're afraid it's not nice to say "no".

You need the language to say "no" in a clear, confident way.

You would feel more powerful saying "no" if you had support and practice.

You are ready to create more time in your life for the things that bring you joy.
This 3-hour, action-packed workshop led by Hannah Curtis, LCSW of New Approaches, will give you the tool kit you need to move out of overwhelm and into a life of more balance, freedom and joy.
You will walk away with:
Clarity on why "no" is honest and kind.

The exact words to use for saying "no" with ease and grace.

A personalized map to use as a guide for creating balance and fulfillment in your life.

Guiding questions that will help you confidently assess what's worth a "yes".

A concrete action plan for applying this right now!
No More Burnout: Creating Boundaries to Increase Energy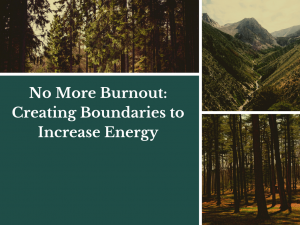 Wednesday, April 26 5:30-8:30pm
200 High Street Portland, Maine
Do you feel burnt out? Are you too tired and overwhelmed to figure out how to make a change? 
We can help you find the path out of burnout and into balance.
Learn how to create and communicate the boundaries that will restore your energy. Take the time to tune into yourself and learn how to speak up for your needs.
This workshop is right for you if:
You are ready to put yourself on the priority list and off the back burner.
You appreciate the idea of boundaries but need support identifying your own.
You need a kick in the butt to actually SLOW DOWN and NOTICE what you need.
You want a roadmap away from burnout and into balance.
You need the words to say to maintain boundaries at home and work.
Join us for an evening centered on finding the way back to yourself. This dynamic and interactive 3-hour workshop will give the tools and motivation to stop living exhausted and move into an energized life. 
You will leave with:
Clarity on how boundaries are an essential part of well-being and high quality relationships.
Confidence about how to create boundaries that increase quality of life.
Personalized, clearly defined boundaries for work and home.
The words to say to maintain these clear boundaries.
An action plan to create the time, intention, and support you need to keep these boundaries long-term.
SAVE THE DATE
Get Paid What You Deserve
Wednesday, May 24 5:30-8:30pm
200 High Street Portland, Maine
Gain the confidence, clarity, and language you need to get paid what you deserve.