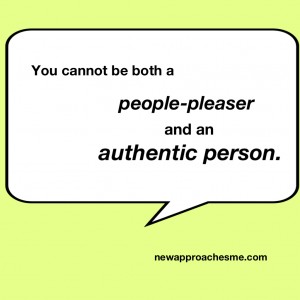 I know how this is going to sound. But I'm going to say it anyway. Be careful of being nice.
The problem is that we do "nice" in ways that are actually detrimental.
The misconceptions about how to be nice are the key issues.
One of the main problems is that a lot of kind people believe it's essential to please everyone.
Now most of us are aware that being a people-pleaser is hard on the person doing the pleasing. There is the exhausting work of always saying yes, trying to read minds, and always doing what the other person wants.
It's sometimes hard to get nice people to change just based on this, "it's not good for you" argument.
So I go for two other cold, hard truths about people-pleasing.
1. When you spend energy pleasing everyone, you inevitably cheat the people who are most important to you.
When you people-please you make everyone important. Not everyone is equally important to you. So don't treat them that way.
While you are fretting about what a coworker, stranger, or other peripheral person thinks about you, you are wasting your energy, time, and focus. This is energy better used on people and relationships that matter.
You only have so much emotional and physical energy. Are you going to let it be used on people who don't actually love and care about you?
2. Pleasing others is not the same as being connected.
Positive relationships are based on connection. This is not achieved when one person is pleasing the other.
People-pleasing is subpar in terms of bonding.
If you are not being you, just being what other people want you to be, then they cannot connect with you. You are not available, you are being someone else.
You cannot be both a people-pleaser and an authentic person.


Agree?
Here's what I'd suggest instead-
Be real. Be honest. Be yourself. Care more about the people you love than people you don't. Invest your energy wisely. If you do this people you care about will like you back. This is what yields a more satisfying life, not people-pleasing.
Ready to get off the people-pleasing train? I can help. I offer coaching for people-pleasing recovery in my office in Portland, Maine and by phone. Email me for more info at [email protected] or call 207-553-2260.